About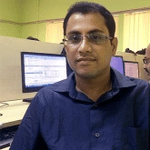 Building digital products from scratch is what gives me vibe to learn new technologies and build solutions. Learn by doing helps me to remain motivated.
Business Domains for which I have mostly developed solutions : Material stock management, Realestate CRM, Classified advertising platforms, Event Management.
If these sounds exciting and cool. Check out my skills and we connect me on LinkedIn. Love to hear from you all about your cool experiences too 😃 😃.
---
Day In and Day Out in office
Managing and Handling AWS Cloud Environment and development using GIT and Docker.
Managing in-house technology team working on Backend (Laravel, Node js, Express js, REST API, Graphql), Database(MySQL), Frontend (HTML, TailwindCSS, Javascript, React js, Gatsby js), DevOps(AWS, Docker, GIT, Nginx, PM2).
Responsible for project management using Trello, Slack, Skype, Gitlab issue tracking.
Designing and developing databases and restful web services that will handle high traffic websites.
Loves to work as a solution integrator to deploy business solutions learning and using the industry best practices.