About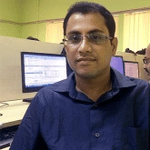 With an industrial experience of around 6+ years in software development, responsible for spearheading teams that handled the software development life cycle for client projects, end to end for building web and mobile apps to handle large volumes of data and users spread across the world. Built with security into new product features to achieve 100% compliance with industry best practices. Having a masters in business administration with specialization in systems and operations helped me better understand the ins and out of the business processes like team management, cost benefit analysis, agile project management.
Business Domains for which I have mostly developed solutions : Material stock management, Realestate CRM, Classified advertising platforms, Event Management.
If these sounds exciting and cool. Check out my skills and we connect me on LinkedIn. Love to hear from you all about your cool experiences too 😃 😃.
---
Day In and Day Out in office
Responsible for pre sales technical interviews with clients understanding and analyzing their business problems.
Responsible for project management using Trello and understanding and addressing issues faced in the development.
Designing and developing databases and restful web services that will handle high traffic websites.
Development using GIT for version control of code and use of docker to maintain development environment dependencies.
Responsible for the deployment in dedicated servers and cloud services AWS (IAM, EC2, S3, Route 53, VPC) and Google Cloud.
Loves to work as a solution integrator to deploy business solutions learning and using the industry best practices.